Top Five Things to Look For When Hiring a Caterer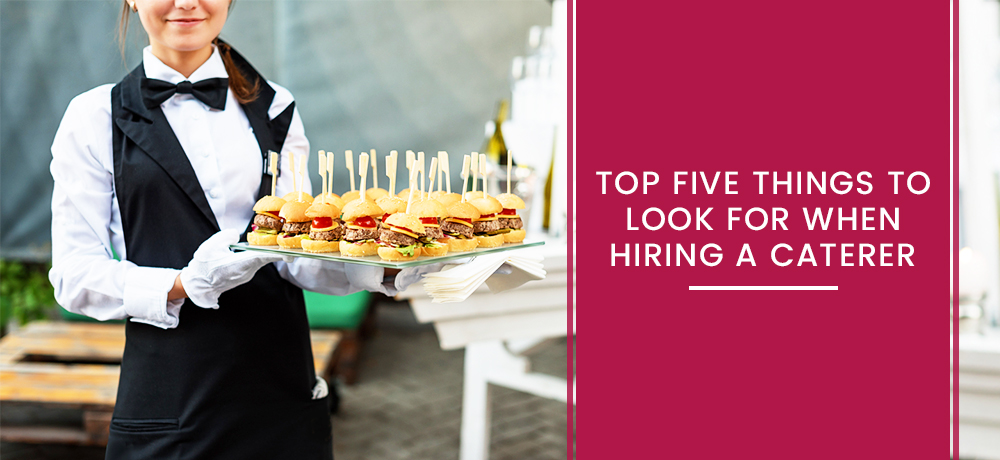 Planning and organizing an event seems fun and easy, but it isn't always the case. There are numerous aspects to consider, and a lot of planning goes into hosting a successful event. If you are organizing an event, then you need to know that the success of an event often hinges on the quality of the catering.
To ensure your guests are served the most delicious food, and your event is an unforgettable one, hire the services of a caterer! A caterer arranges delivery, preparation, and presentation of food for clients while ensuring you have a stress-free time so that you can focus on your guests.
To help you hire the best catering service, we have compiled a list of the top five things to look for when hiring a caterer.
1. Experience.
An experienced caterer will have a keen eye for how to present the food and organize the space to make it look perfect. They will also be experts in serving the food in the best way possible to your guests.
2. Expertise.
The caterer you are planning to hire must have the expertise to handle any event. They should be able to add an extra touch to every dish they serve to your invitees.
3. Quality Product.
You would want to feed your guests with food that is of superior quality and which is made with the best ingredients. Make sure your prospective caterer serves only the best quality food.
4. Comfortable to work with and easy communication.
Ensure your potential caterer and his/her staff is comfortable to work with and easy to communicate with as you will be able to tell them what you expect and excellent communication on their part will get you the best catering service. The caterer and his/her staff must also be personable and should treat your guests well.
5. Creative ideas to build the perfect event.
The caterer you are considering should come up with creative and unique ideas for your event. This will help to create an environment that everyone in attendance will enjoy.
If you're looking for a caterer in London, Strathroy, Grand Bend, Mt. Brydges, Komoka and the surrounding areas, reach out to Clock Tower Inn Catering. We have been in the culinary industry for over forty years working with some of the finest chefs around. Having catered everything from birthdays to weddings and anniversaries, there is nothing that our caterers haven't been able to provide. To learn more about services we offer, please click here. If you have any questions, get in touch with us by clicking here.